Protein Packed Oatmeal Banana Pancakes are a healthy, filling breakfast with 20 grams of protein. Made with natural ingredients and really tasty.
288 CALORIES

43g CARBS

5g FAT

20g PROTEIN
5
Freestyle™ SmartPoints™ New!
(6 Old SmartPoints™)
(7 PointsPlus®)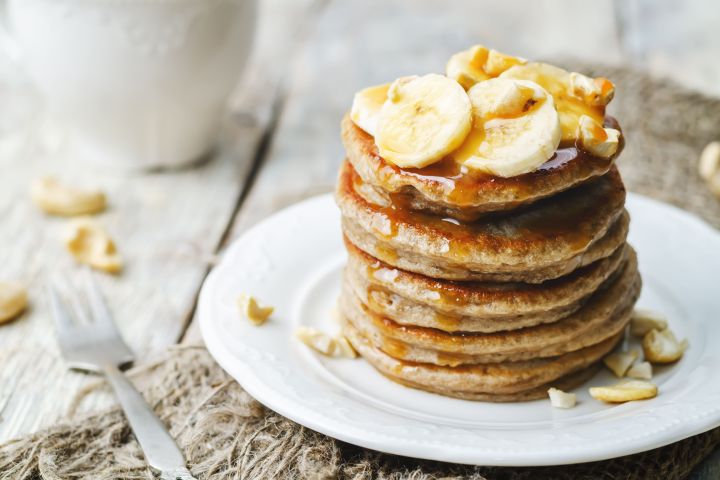 Protein Packed Oatmeal Banana Pancakes Recipe
Protein Packed Oatmeal Banana Pancakes are a staple in our house since they easy to make, really filling, and healthy. Plus they freeze great so I usually keep some stored away for quick breakfasts on the go.
Pancakes are one of my favorite things to enjoy for breakfast but often I am hungry an hour later since most pancakes don't offer much in terms of protein. Luckily these banana oatmeal pancakes are packed with protein from two secret ingredients – cottage cheese and egg whites. Don't worry if you don't like cottage cheese, you won't even be able to tell it's in there but it adds some much needed protein that will keep you energized all morning. The bananas add all the sweetness you need and they taste great topped with nut butter, fresh fruit, maple syrup, or a drizzle of chocolate syrup.
Since we could all use more time in the morning, I love the idea of having homemade, good for you options at your finger tips. With that in mind, I always make a double or triple batch of these pancakes and freeze the extras. I have found the best way to freeze pancakes is to first let them cool completely. Then once they are cooled, place them in a single layer on a baking sheet or piece of parchment paper. Place them in the freezer for 1-2 hours. Once they are mostly frozen, you can store them in a freezer bag or container. Then just pop them in the toaster to reheat. The microwave also works, but I prefer the consistency you get from the toaster.
Tips for Making these Protein Packed Banana Oatmeal Pancakes
If you prefer whole eggs to egg whites, just use half the amount. They will still turn out great and have the added nutritional benefits of the yolk.
Although you can't taste the cottage cheese at all, if you are opposed to using it you could substitute in ricotta cheese or Greek yogurt. Both will add protein to the pancakes.
If you don't like banana, these can be made with pumpkin puree. However you will probably need to add some sweetener as well. Honey, maple syrup, or Stevia would all work.
For a gluten free version, make sure to choose gluten free oats.
When doubling or tripling the recipe, I recommend blending things in batches to prevent the blender from overheating. 
I have found the best way to freeze these pancakes is to let them cool and then flash freeze them for an hour on a baking sheet or plate. Then you can place them in a ziploc bag or storage container and they won't stick together. To reheat, pop them in the toaster or microwave for a couple minutes. They can also be reheated in a skillet.
Looking for more healthy pancake recipes?
Here are some of the products and tools I used in creating this recipe:
Skillet: I am in love with this pan that I use to prepare this dish but you could use any heavy bottomed pan or cast iron. A wok would also work great for this recipe.
Blender: Personally I love my Vitamix and feel it is worth the investment since it is such a powerhouse in the kitchen and lasts forever. I use it all the time for smoothies, soups, salsa, and all kinds of recipes.
This recipe was originally shared in 2013 but has been updated with new photos and tips.
Source link