Check out highlights from this week's meal plans! Healthy, Vegetarian, and Low Carb options all with nutritional info and Freestyle Smartpoints.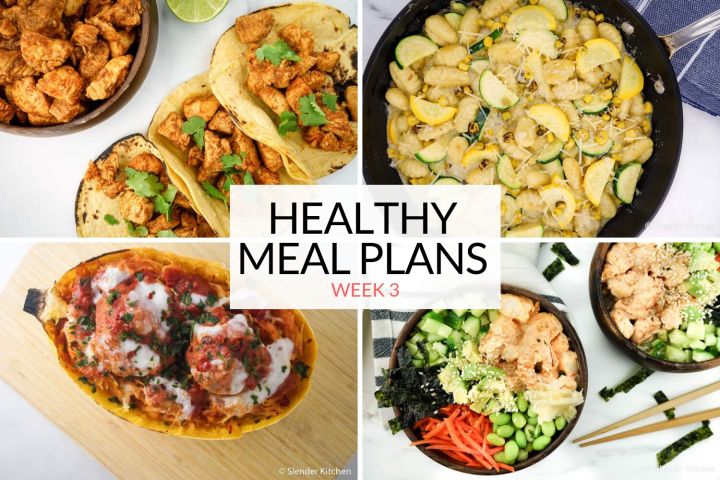 In my own experience, this is when it starts it to get hard, Life starts to get busy, old habits creep back in, and New Year's goals start to be pushed aside. It's easy to fall off track, but with a little focus and hard work – this is the time your new habits start to form. They say it takes at least 3 weeks for a new routine or habit to stick so just stick with it, dig into this week's delicious meals, and know that next week it will get easier. 
Now on to this week's meal plan! Now on to this week's meal plan. It starts out with a delicious Broccoli and Cheese Frittata, Buffalo Chicken Quesadillas, and Slow Cooker Italian Red Pepper Chicken. Monday brings Spaghetti Squash and Meatballs with Fresh Mozzarella and Tuesday is Easy Chicken Soft Tacos. Wednesday is General Tso's Pork and Thursday is Gnocchi with Zucchini and Summer Squash. To end the week, meals include Spicy Shrimp Sushi Bowls and Barbecue Cheddar Turkey Burgers.
Don't miss out on our 25% off New Year's Special! There are just a couple of days left to take advantage of this great deal! Just $3 per month for weekly meal plans with shopping lists.
Here are some of the meals in this week's meal plan!
Spaghetti Squash and Meatballs with Melted Mozzarella: This is one of those meals that makes people love spaghetti squash. The sauce is rich, the meatballs are delicious, and the melted mozzarella makes it indulgent. You won't miss the pasta, I promise.
Spicy Shrimp Sushi Bowls: Let's be honest, no one has time to roll sushi at home on a busy weeknight. But these sushi bowls mean you don't have to – make them with shrimp, tuna, salmon, chicken, or tofu.
Potato Gnocchi with Zucchini and Corn: There are so many good things happening in this dish – fluffy potato gnocchi, sweet squash and corn, and the best creamy sauce. Lightened it up with cauliflower gnocchi as well.
General Tso's Pork: Takeout at home is one of my favorite things to make and this sweet and slightly spicy pork with broccoli couldn't be more delicious.
Remember to check out the healthy, low carb, and vegetarian meal plans all with nutritional info and Freestyle SmartPoints.
Love the idea of meal planning but don't have time to find recipes, create shopping lists, and make meal plans?
Since I know that many people simply don't have the time to create their own healthy meal plans, we provide delicious and healthy meal plans at Slender Kitchen that you can customize to meet your needs.
Each healthy weekly meal plan comes full of delicious recipes for breakfast, lunch, and dinner. The meal plans come in regular, vegetarian, and low carb options. All feature complete nutritional information, Weight Watchers SmartPoints, and categorized shopping lists! There are also two bonus fallback recipes weekly and the option for either a complete meal plan or a Dinner Only plan. This includes our interactive meal planning option where you can customize the number of servings for each meal, swap in new recipes if you don't like something, or build your own meal plan from scratch. All that for less the cost of one cup of coffee per month with the yearly plan.
Source link